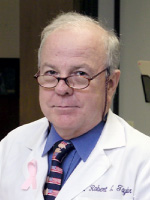 Dr. Robert Taylor established Triangle ENT Services Association in Durham, NC in 1995, with the philosophy of helping patients understand the cause of their medical problem and helping them set achievable goals for wellness. Dr. Taylor provides his patients with a unique blend of "millennium medicine" combining pioneering new treatments with traditional healthcare practices. Offering the patient relief from symptoms, as well as treatment for the cause of the problem is a unique aspect of his practice. "I want to provide my patients with the information they need to make decisions about their care and encourage them to become active participants in their health."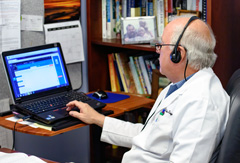 Dr. Taylor is a Fellow of the American Academy of Otolaryngic Allergists, a select group of ENT physicians specializing in allergy treatment. Allergy patients are a particular interest, often requiring a great deal of "detective work" on the part of our staff to determine the cause of symptoms. Once the cause has been uncovered, a number of treatment options can be implemented.
Dr. Taylor is a board certified Otorhinolaryngologist (ENT physician). Other professional memberships include: The American Academy of Environmental Medicine, The American College of Surgeons, Pan American Allergy Society, North Carolina/South Carolina Otolaryngology Society and the North Carolina Medical Society.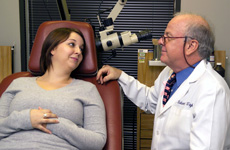 Dr. Taylor received his medical degree from the University of Alabama, Birmingham in 1976. After completing a residency in ENT at the Naval Hospital, Oakland, California, he served as the ENT physician at the Naval Submarine Base, Groton, Connecticut for 4 years. The last seven years of his 21 year naval career were spent as the training director and chairman of the ENT residency program at the Naval Hospital, Oakland, California.

Dr. Taylor has lectured before professional groups on a number of topics recently:
Non Beta Strep Bacterial Pharyngitis - NC/SC Otolaryngology Society - July, 2004
Sublingual Desensitization - NC/SC Otolaryngology Society - July, 2006
Sublingual Desensitization Panel Discussion/How We Do It - American Academy of Environmental Medicine - Oct, 2006